Lectures of the forty-first Woudschoten Conference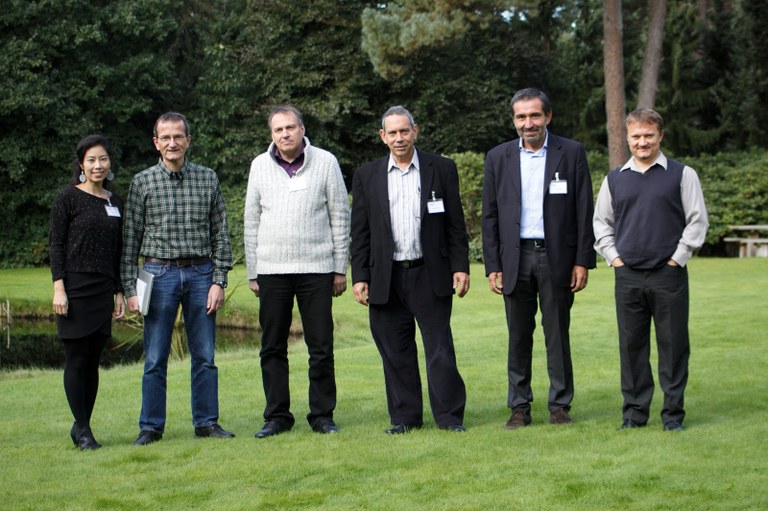 Keynote speakers of the Woudschoten conference 2016 (f.l.t.r.):
Frances Kuo, George Karypis, MichaelTretyakov, Douglas Arnold, Daniele Boffi, Peter Richtarik
The organising committee is very happy to present the lectures as shown on the Woudschoten conference 2016. The forty-first Woudschoten Conference was held at the Woudschoten Conference Centre, Zeist, The Netherlands from 5-7 October 2016.
Themes and keynote speakers of the conference were:
Numerical methods for big data analytics
Invited speakers:
Monte Carlo methods for partial and stochastic differential equations
Invited speakers:
Mixed finite element methods
Invited speakers:
 One-minute poster session: All participants were invited to present a poster concerning their research. Every presenter of a poster received a one-minute slot in the conference programme (in a plenary session) to attract the attention to his or her poster. See the PDF files the one-minute session.
The following posters were rated the best by a jury consisting of the keynote speakers under the leadingship of Dirk Roose:
 
 
 

1. Pieterjan Robbe (KUL)
A Multi-Index Quasi-Monte Carlo Algorithm for PDEs with random coefficients





2. Verena Schamboeck (UvA)
Connected components in evolving random graphs driven by a polymerisation reaction network

 

 

3. Frits de Prenter (TUE)
Preconditioning Immersed Finite Element Methods
 

 
---




CSER:

 Support: The Conferences of the Dutch-Flemish Numerical Analysis Communities are held yearly, organised by the Werkgemeenschap Scientific Computing (WSC). Support is provided by the Centrum Wiskunde & Informatica (CWI). Financial support for this conference is provided by the 4TU Applied Mathematics Institute (4TU.AMI), Computational sciences for energy research (CSER) , the Netherlands Organization for Scientific Research (NWO), the Nonlinear Dynamics of Natural Systems(NDNS+), VORtech BV, the scientific software engineers (VORtech), Hewlett Packard Enterprise (HPE).
Organising committee 2016: Dirk Roose (KU Leuven), Stefan Vandewalle, Jaap van der Vegt, Margreet Nool (CWI, secretary), Martine Anholt (CWI, secretary)
---

Number of participants: 105, of whom 22 women
Number of PhD students: 50, of whom 15 women
Number of posters: 37
More 
photos
 of the Forty-first Woudschoten Conference