Lectures of the Thirty-fifth Woudschoten Conference
Lectures of the Thirty-fifth Woudschoten Conference (2010)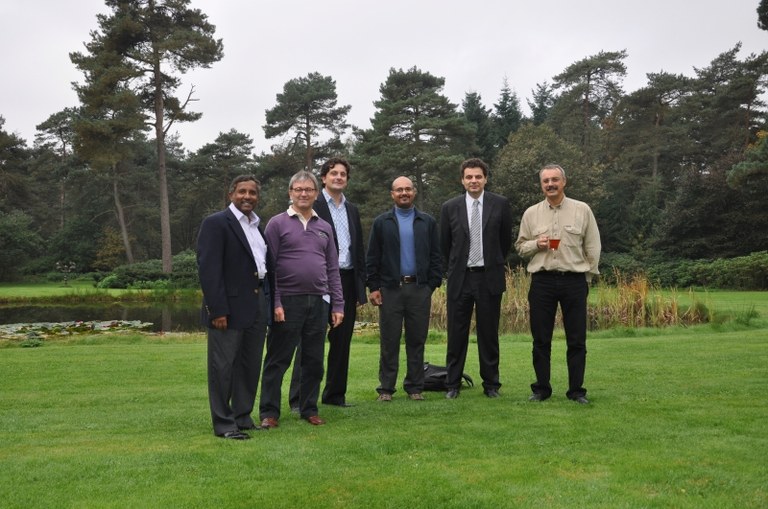 Keynote speakers of the Woudschoten conference 2010 (f.l.t.r.):
Alex Pothen, Peter Arbenz, Gianluca Iaccarino, Rajat Mittal, Petros Koumoutsakos, Patrick Amestoy.
The organising committee is very happy to present the lectures as shown on the Woudschoten conference 2010. The thirty-fifth Woudschoten Conference was held at the Woudschoten Conference Centre, Zeist, The Netherlands from 6-8 October 2010.
Parallel numerical linear algebra
Patrick Amestoy, Université de Toulouse, Toulouse, France
Peter Arbenz, ETH Zürich, Switzerland
Alex Pothen, Purdue University, West Lafayette, USA
Immersed boundary methods and Cartesian grids
Gianluca Iaccarino, Stanford University, California, USA
Petros Koumoutsakos, ETH Zürich, Switzerland
Rajat Mittal, Johns Hopkins University, Baltimore, USA
---
One-minute poster session: All participants were invited to present a poster concerning their research. Every presenter of a poster received a one-minute slot in the conference programme (in a plenary session) to attract the attention to his or her poster. See the PDF files the one-minute session.
The following posters were rated the best by a jury consisting of the keynote speakers under the leadingship of Arthur Veldman:
1. Julia Mikhal
Shear Stress Predictions for a Model Aneurysm using the Immersed Boundary Method

2. Miranda van Wijngaarden-van Rossum
Modelling Biogrout,a new ground improvement method
3. Serguey Zemskov
Mathematical model for bacterial self-healing cracks in concrete
---
Support: The Conferences of the Dutch-Flemish Numerical Analysis Communities are held yearly, organised by the Werkgemeenschap Scientific Computing (WSC) and the Scientific Research Community (WOG) ''Numerical methods for mathematical modelling''. Support is provided by the Centrum Wiskunde & Informatica (CWI), the Netherlands Organization for Scientific Research (NWO), Nonlinear Dynamics of Natural Systems (NDNS+), and Research Foundation Flanders (FWO-Vlaanderen).
---
Organising committee 2010:
Prof. Arthur Veldman (chair), Prof. Rob Bisseling, Prof. Kees Vuik, Prof. Barry Koren, Drs. Margreet Nool (secretary)
Number of participants: 115
Number of posters: 32
Impression 2010: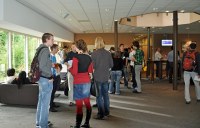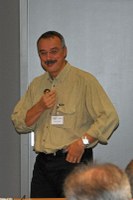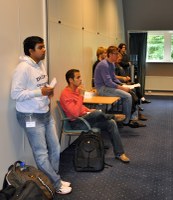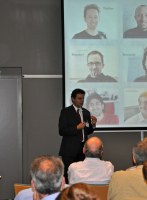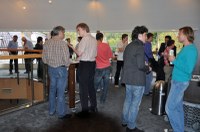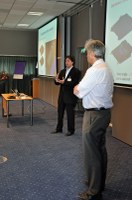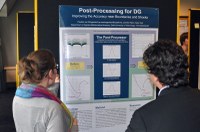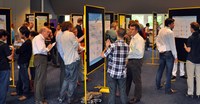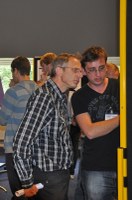 More photos of the Thirty-fifth Woudschoten Conference