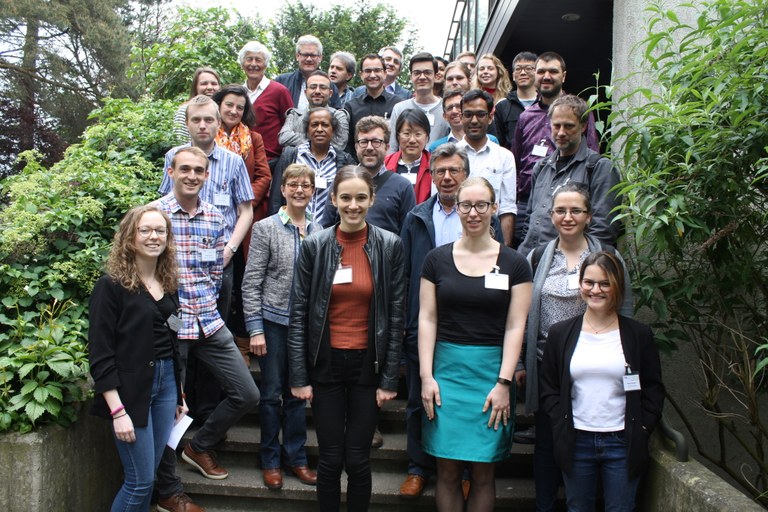 Participants of the 2019 Springmeeting at Campus Groenenborger in Antwerp

Friday May 28th, 2021, the Dutch-Flemish Scientific Computing Society is organizing its annual spring meeting, together with the Technical University in Delft the Netherlands. Last years meeting was cancelled but we will do all we can to make the 2021 meeting happen. If the measurements allow it, we hope to see all of you in Delft, if not, we will create a hybrid or fully online meeting.
We have asked last years speakers if they want to present their research at this years meeting, luckily some already confirmed.

More news will follow in the beginning of 2021.

This year, participation including lunch will be free. Registration is not possible yet.
No shows will be charged with 25 euros administration costs.
Location:
Kubus
TU Delft, Gebouw 26 (Zaal Kubus, A.0.350)
Van der Burghweg 1
2628 CS Delft

Directions public transport:
De Bouwcampus can be reached from Delft Central Station by bus 69,40 and 174. Bus stops close to De Bouwcampus are TU- Sport en Cultuur and TNO Zuidpolder.
From Delft-Zuid station you can walk to De Bouwcampus in about 20 minutes.
Directions by car and parking
Coming from the A13 take exit 10 Delft Zuid and follow the signs TU Delft. Go right in to the Schoemakerstraat and at the first crossing go left. If you then turn left again you are on a free parking spot named "Sports", there are 300 spots there. It is a 5 minute walk from this parking to Van der Burghweg 1.
In the direct area of the University there is limited parking space available, you risk a fine if you are not parked in the designated field.
Program 2021

09:00-09:30 Registration, coffee and tea
09:30-10:10 Kristof Cools (TU Delft)

10:10-10:35 Speaker

10:35-11:00 Speaker

11:00-11:30 Coffee and tea
11:30-11:55 Speaker

11:55-12:20 Speaker

12:20-12:30 Group picture
12:30-13:30 Lunch
13:30-13:55 Speaker

13:55-14:20 Speaker

14:20-14:50 Coffee and tea
14:50-15:15 Speaker

15:15-15:50 Matthias Schlottbom (University of Twente)
 
15:50-16:00 Closure
Speakers Spring meeting SCS 2021

 
 Kristof Cools: In 2018, Dr. Cools joined the Department of Industrial and Applied Mathematics at TU Delft. His research interests include the spectral properties of the boundary integral operators of electromagnetics, stable and accurate discretization schemes for frequency and time domain boundary element methods, domain decomposition techniques, and on the implementations of algorithms from computational physics for high-performance computing.
 
Matthias Schlottbom obtained a PhD in mathematics (Dr. rer. nat.) at the RWTH Aachen in 2011.
After that he was PostDoc at the technical universities in Munich and Darmstadt and at the WWU Münster.
Since 2016 he is an Assistant Professor in the Department of Applied Mathematics at the University of Twente.
His research focuses on the development and analysis of numerical methods for partial differential equations and inverse problems.
Areas of applications range from medical imaging and biology to photonic crystals.
 
Marieke Kootte: received her B.Sc. degree in civil engineering in 2014 at Delft University of Technology, The Netherlands. She then obtained her double degree in applied mathematics at Delft University of Technology and KTH Stockholm, Sweden, in 2017.
Currently she is pursuing her Ph.D. degree at the Numerical Analysis research group of the Delft Institute of Applied Mathematics, Delft University of Technology. Her topic focuses mainly on fast and robust power flow solvers for integrated transmission-distribution networks and partly on defining optimal bid strategies for different electricity markets.
 

 Yuan Hou:  obtained  his  BSc  and  MSc  degrees  in  Software  Engineering  from  East  China  Normal  University  in  Shanghai,  China,  in  2014  and  2017  respectively.  Since  October  2017,  he  is  a  PhD  student  in  the  Computational  Mathematics  (CMA)  research  group  at  the  University  of  Antwerp  in  Belgium.  His  research  focuses  on  using state‐of‐art multivariate exponential analysis techniques to tackle challenges in  identified computational science and engineering applications.     

 
 
 
 
 
 
 
 
 
 
2021 Abstracts 
PhDays 2021
If COVID allows it, PhDays will be in the weekend of 29-30 May. More news will follow in the beginning of 2021.
Organization
The spring meeting is organized yearly by the Dutch-Flemish Scientific Computing Society (SCS), this year in cooperation with Technical University Delft.
Organizing comittee: Prof.dr.ir. Kees Vuik (TUD, ) Martine Anholt (CWI, Secretary SCS).
      
Support for this meeting has been obtained from Centrum Wiskunde & Informatica (CWI) and Technical University Delft. The Scientific Computing Society is very grateful for that support.